---
As part of the CICM workshops day in parallel to the doctoral consortium. On the same day, the User Interfaces for Theorem Provers and the OpenMath Workshops are happening.
The papers have been published as Volume 921 of CEUR-WS.
---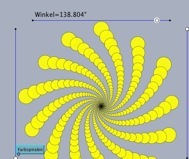 Mathematics is being increasingly done on computers: from computations to communications, from static pictures to dynamic presentations, from organized texts to formalized demonstrations.
This workshop offers an international forum discussing how users can interact mathematically with the representations on a computer, how they can manipulate them to feel their mathematical nature, how knowledge can be communicated through computers.
This workshop is a forum to discuss broad questions of user interfaces for mathematics independently of a target application or target environment as the issues users face are often common.

This workshop follows a successful series of meetings held the Mathematical Knowledge Management conference; it features presentations of brand new ideas, elected on reviewed submitted papers, with wide space for discussions, as well as a software demonstration session.
---
Invitation to submissions
The organizers thank authors that submitted.
Deadline for submissions: May 30th 2012.
The submissions will be reviewed by the international programme committee. They will send their comments and recommendations by June 15th requesting a final version no later than June 30th.
---
---
Links
---