---
The proceedings, including the papers below, of the workshop are also part of the proceedings of Workshops and Work in Progress at CICM, volume 1010 of CEUR-WS (ISSN 1613-0073).
---
The following papers have been presented at the workshop on July 10th in room 8W 2.1.
08:30-10:00 Session 1: Understand
Chair: Helena Mihaljevic-Brandt
Jan Wilken Dörrie and Michael Kohlhase
MathMap: Accessing Math via Interactive Maps
World Math literature is growing at an alarming rate (3.3M journal articles today increasing by 120k a year). While much of that can be retrieved online, we lack technologies to navigate and understand the space of math literature. The MathMap project wants to develop and deploy novel interfaces that empower interested parties to find their way. We conjecture that such maps can act as cognitively adequate access mechanisms to many large-coverage MKM systems.
The first concrete interface is an interactive map generated from publication data. We have developed a prototype map generation service based on MSC classifications and deployed the maps resulting from ZBMath data in OpenStreetMap. It is accessible at map.mathweb.org.
Andrea Kohlhase
Spreadsheets: From Data Interfaces to Knowledge Interfaces
Documents of type ``spreadsheet'' are considered user interfaces to numeric data as they allow authors to create, modify and display these data in distinct layouts like tables or diagrams and readers to interpret them. We tend to believe that enhancing software semantically means that we are lifting its value. In particular, if we enhance spreadsheets semantically can we lift their data interface status to a knowledge interface status? We used the repertory grid methodology to conduct a study on the difference between spreadsheets and spreadsheets semantically enhanced with the SACHS extension. Our research shows that, indeed, from the perspective of users adding semantics turns spreadsheets into knowledge interfaces.
Mihnea Iancu, Felix Mance and Florian Rabe
The Scala-REPL + MMT as a Lightweight Mathematical User Interface Scala is a general purpose programming language that includes a read-eval-print loop (REPL). MMT is a general representation language for formal mathematical knowledge implemented in Scala. Independent recent developments permit combining them into an extremely simple user interface.
Firstly, Scala introduced string interpolation -- a convenient syntax that permits escaping back and forth between strings and arbitrary Scala expressions (while preserving type safety). Secondly, MMT introduced a notation-based text syntax and a rule-based evaluation engine for its mathematical objects (which are based on OpenMath).
Combining these, users can enter and work with MMT objects in the Scala-REPL with so little overhead that it essentially behaves like a dedicated MMT-REPL -- except for also providing the full power of Scala. Implicit conversions (e.g., between integers represented in MMT and Scala integers) further blur the distinction between meta- and object language.
MMT is highly extensible: Users can add new type systems and logics as well as new theories and notations and evaluation rules. Thus, we obtain a REPL-style interface for any language represented in MMT with essentially no effort.
10:00-10:30: coffee break
10:30-12:30: Session 2: Learn
Chair: Paul Libbrecht
14:00-15:30: Session 3: Input
Chair: Andrea Kohlhase
16:00-18:00: Session 4: Evaluation & Demonstration
Chair: Christoph Lange
The demonstration session of the MathUI workshop is an exhibit where each software is demonstrated by their authors. It starts at 16:30 with an elevator pitch of 90 seconds per demo and finishes at 18:00. The following demonstrations are accepted:
The evening continues in the same room with the DML Panel discussion: Fifty Shades of *DML (18:00-19:00).
---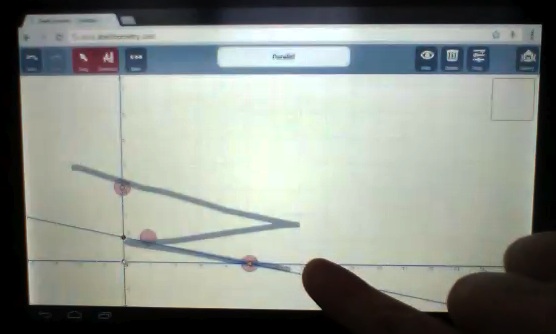 MathUI is an international workshop for discussing mathematical user interfaces, i.e., ideas and studies of how users (can) interact with mathematical representations on a computer. Topics include:
user-requirements for math interfaces
presentation formats
mobile-devices powered mathematics
cultural differences in practices of mathematical languages
didactically sensible scenarios
spreadsheets as mathematical interfaces
manipulations of mathematical expressions
This workshop follows a successful series of meetings held at the Conferences on Intelligent Computer Mathematics; it features presentations of brand new ideas in papers selected by a review process, wide space for discussions, as well as a software demonstration session.
---
Invitations
We have welcome submissions that present new ideas, features, user-studies, and software systems relevant to MathUI in the form of a description (4-8 pages) and/or a video submitted to the easychair system. The programme committee has reviewed the submission following criteria of originality and applicability. The final forms of the papers are included in the proceedings on this web page and on CEUR-WS.
---
The programme committee review work is indebted to the following persons in the review process: Mihnea Iancu, Christoph Lange, Azzeddine Lazrek, Christoph Lüth, Steven Obua, Corneliu-Claudiu Prodescu, and Iain Whiteside
---
---